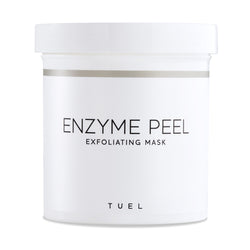 Enzyme Peel Exfoliating Mask
SKU: 9903

Rapid radiance for all skin types. Made with oil-absorbing kaolin clay, this exfoliating mask dissolves the surface layer of keratinized skin with the gentle resurfacing properties of papain and bromelain—two fruit enzymes known for their hydrating and anti-inflammatory benefits. Combined with the balancing action of the clay, these plant-based exfoliators refine the appearance of enlarged pores for smoother, brighter skin in minutes.
What it does:
• Dissolves the keratinized top layer of skin
• Reveals brighter, softer, smoother skin
• Refines the appearance of enlarged pores and uneven texture
Papain: A gentle papaya enzyme that resurfaces the skin while promoting hydration.
Bromelain: An exfoliating pineapple enzyme that dissolves dead skin.
Kaolin: An oil-absorbing clay that helps balance sebum and refine enlarged pores.
Kaolin, Bromelain, Silk Powder, Papain, Aloe Powder