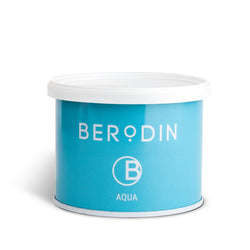 Aqua Soft Wax 400gm
SKU: 30-1001

Gentle Soft Wax. Berodin Aqua is a hypoallergenic and fragrance-free clear wax safe for all skin types including sensitive skin. Gentler than other clear waxes, this microcrystalline formula was designed with speed waxing in mind. After being heated at a low temperature, it's applied in a very thin layer—allowing you to cover large areas in no time. A single application removes fine and short hairs without leaving behind any residue.
What it does:
• Hypoallergenic wax free of fragrance and beeswax
• Doesn't dry out or become brittle
• Can be applied and removed quickly without irritation
Microcrystalline Wax: A clear and elastic wax that expertly targets fine and short hair.
Mineral Oil: An emollient oil that protects the skin and minimizes reactions.

Hydrogenated Poly (C6-20 Olefin), Paraffinum Liquidum (Mineral Oil), Cera Microcristallina (Microcrystalline Wax), Pentaerythrityl Terta-di-t-butyl Hydroxyhydrocinnamate, Bis(2,2,6,6-tetramethyl-4-piperidyl), Sebacate, CI 61565 (Green 6).
1. Apply wax in the direction of the hair growth, remove against.
2. Keep hand along side of the body when you are removing the strip, do not pop your hand out into the air.
3. Keep the skin tight at all times. Have the customer help you on areas where you feel you need assistance.