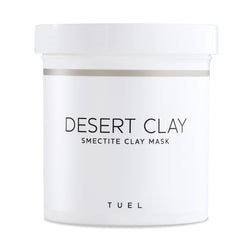 Desert Clay Hydrating Mask
SKU: 9905

Seize the clay. Every skin type deserves a little mineral magic. This hydrating clay mask detoxifies pores and absorbs excess oil without drying out skin. Mineral-rich smectite clay helps hydrate and balance, forming a protective barrier that calms reactive skin and locks in moisture.
What it does:
Absorbs excess sebum and shine Helps hydrate and replenish skin
Forms a protective barrier on the skin
Smectite Clay: An oil-absorbing clay that helps extract pore impurities while tightening and soothing skin.
1) Mix one tablespoon with water to form a smooth paste for face or body treatments.
2) Mix with water and Moisture Plus Mask or Super Sooth Mask for face or body treatments.
3) Mix 1/4 cup into bath or hydrotherapy tub and soak for 10 minutes.