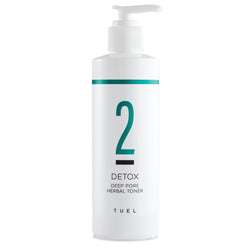 Detox Deep Pore Herbal Toner
SKU: 9303

Our detox program: step two.
Target bacteria with this herbal toner designed to clear existing blemishes and prevent new ones from forming. Packed with antibacterial botanicals that become water-soluble to thoroughly cleanse and gently exfoliate. This unique treatment also prepares your skin for maximum absorption of serums, creams and masks to deliver active ingredients where they're most effective.
What it does:
• Dissolves stubborn pore impurities and dirt hiding in pores
• Fights acne-causing bacteria with non-irritating herbal extracts
• Prevents breakouts and soothes inflamed and irritated skin
This herbal toner is step two of a two part system and must be used with Detox Cleansing Oil.
Goldenrod Extract: A healing herb that calms redness, irritation, and inflammation.
Mistletoe Extract: An antioxidant-rich extract that fights breakouts and promotes healing.
Witch Hazel: A natural astringent that controls oil and offers antioxidant protection.
Water (Aqua), Glycerin, Chondrus Crispus (Carrageenan), Aesculus Hyppocastanum (Horsechestnut) Seed Extract, Arnica Montana (Arnica) Flower Extract, Hedera Helix (Ivy) Extract, Vitis Vinifera (Red Vine) , Leaf Extract, Allium Sativum (Garlic) Bulb Extract, Hypericum Perforatum (St. John's Wort) Extract, Hamamelis Virginiana (Witch Hazel) Extract, Viscum Album (Mistletoe) Fruit Extract, Urtica Dioica (Nettle) Extract, Solidago Virgaurea (Goldenrod) Extract, Brown Sugar, Polysorbate 20, Phenoxyethanol, Potassium Sorbate, Caramel
STEP 1: On dry skin with dry hands, massage 1 pump of Cleansing Oil onto face and neck.

STEP 2: Massage 1 pump of Herbal Toner over Cleansing Oil. Add cool water gradually to emulsify and turn milky white. Rinse until you no longer feel the cleansing solution.

*Ideal for eye makeup removal and conditioning lashes*