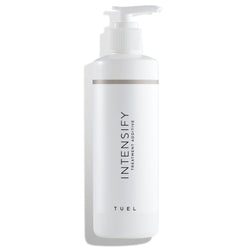 Intensify
SKU: 809

Rev up circulation and encourage detoxification with Intensify—a powerful booster designed to be added to Wrap Cream to increase the strength of our Body Contouring Treatments. Methyl nicotinate stimulates blood flow and helps purge impurities from the body's tissues. As circulation increases, retinyl palmitate helps energize skin cells and fight free radicals. Soothing chamomile extract helps calm redness and flushing while gently conditioning the skin.
What it does:
• Increases circulation and surface blood flow
• Helps in the purging of skin impurities
• Energizes cells and stimulates healthy skin renewal
Niacinamide: An ingredient that dilates capillaries to increase blood flow.
Retinyl Palmitate: A form of vitamin A that softens the appearance of lines and stimulates healthy renewal.
Chamomile Extract: A powerful soother that calms redness and inflammation.
Water (Aqua), Niacinamide, SorbitolIsopropyl Alcohol, Hydroxyethylcellulose, Retinyl Palmitate (Vitamin A), Cholecalciferol (Vitamin D), Tocopheryl Acetate (Vitamin E), Anthemis Nobilis (Chamomile) Flower Extract, Phenoxyethanol, Potassium Sorbate, Caramel