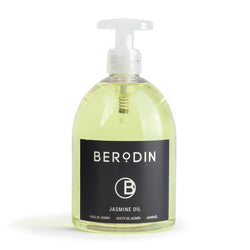 Jasmine Pre-Depilatory Oil
SKU: 30-1005

Pre-Wax Protection. Specifically designed to condition the skin before waxing, Berodin Jasmine Pre-Depilatory Oil can be used with any of our signature waxes. Mineral oil and sweet almond oil create a protective barrier on the skin that won't interfere with the efficacy of the wax. Used before and after wax service, this oil allows for better product release and removes any remaining residue.
What it does:
• Creates a protective barrier on the skin
• Eases product release and removes residue
• Conditions and moisturizes the skin to prevent reactions
Mineral Oil: An emollient oil that protects the skin and minimizes reactions.
Sweet Almond Oil: A lightweight plant oil with nourishing and moisturizing properties.
Paraffinum Liquidum (Mineral Oil), Jasmine Parfum, Prunus Amygdalus Dulcis (Sweet Almond) Oil, Butlhydroxytoluene, C.I. 47000 (D&C Yellow 11)
Apply a very small amount to hands, rub together and lightly distribute to skin. If necessary blot your hands prior to application.