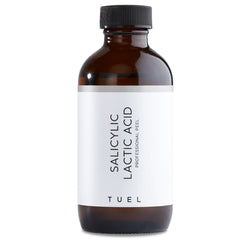 Salicylic / Lactic Acid
SKU: 9906

This pro-only peel is our most aggressive exfoliating solution made with 20% salicylic acid and 4.4% lactic acid. This combination of alpha and beta hydroxy acids dissolves the keratinized outer layer of skin, removes dead cells, and reveals the fresh skin that's just below the surface. As it exfoliates, this powerful resurfacer helps soften the appearance of fine lines and wrinkles while instantly brightening the appearance of dark spots and acne scarring. In minutes, skin has a smoother, fresher, brighter tone and texture.
What it does:
• Dissolves dead skin and the keratinized top layer of skin
• Reduces the look of acne scarring and dark spots
• Softens the appearance of fine lines and wrinkles
Salicylic Acid: A beta hydroxy acid that resurfaces and reveals brighter skin while battling acne-causing bacteria.
Lactic Acid: An exfoliating alpha hydroxy acid that softens the appearance of dark spots and wrinkles.
Licorice: A soothing anti-inflammatory that helps prevent skin redness and irritation.
SD Alcohol 40-B, Salicylic Acid (20%), Aqua (Water), Lactic Acid (4.4%), Ethoxydiglycol, Butylene Glycol, Glycerin, Glycyrrhiza Glabra (Licorice) Root Extract, Salix Alba (Willow) Bark Extract, Phenoxyethanol, Hamamelis Virginiana (Witch Hazel) Extract.
See Tech Manual for safe and appropriate guidelines.