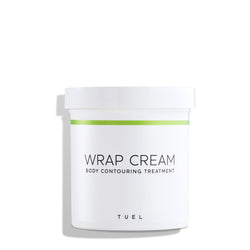 Wrap Cream
SKU: 807

A glowing outside starts from within. Our Wrap Cream helps speed up the detox process for an effective body contour treatment. A powerful vasodilator, methyl nicotinate helps tissues purge impurities as it boosts blood flow. Cooling eucalyptus oil helps clarify congested skin while vitamin B5 softens and moisturizes.
What it does:
• Increases circulation and surface blood flow
• Helps in the purging of impurities and congestion
• Conditions and softens skin
Niacinamide: An ingredient that dilates capillaries to increase blood flow.
Eucalyptus Oil: An antibacterial essential oil that helps tone and detoxify.
Vitamin B5: A humectant that stabilizes the skin barrier, increasing hydration, softness, and elasticity.
Water (Aqua), Lanolin, Glycerin, Caprylic/Capric Triglyceride, Niacinamide, Cetyl Alcohol, Glyceryl Stearate, PEG-100 Stearate, Cetearyl Alcohol, Ceteareth-20, Vanillyl Butyl Ether, Polysorbate 60, Caffeine, Panthenol (Vitamin B5), Eucalyptus, Globulus Leaf Oil, Disodium EDTA, Phenoxyethanol, Sorbic Acid